Video of The Month:
July 2009:
(click to view)
Published in 1959 by the U.S. Department of Interior - Bureau of Mines
Join QuanTEM in celebrating 20 years as the
LAB OF CHOICE for Environemental Professionals!
Visit our site for more information!
Message from John Barnett, President

Hello Summer, I don't know how the weather is where you are but it's hot here. Of course Oklahoma is usually hot in the summertime so I guess we can't expect anything different. Speaking of different, QuanTEM Laboratories is celebrating our 20th year serving the environmental industry. QuanTEM originally started as a TEM lab, hence the spelling of our name. Remember those days, TEM samples were going for $300 to $400 a piece, maybe we should role back prices.☺ Anyway, since then we've experienced a continued and steady growthat QuanTEM; we have been continually adding services as they fit into our plan and when they don't, we cut them loose. To be the best we can be, it's important that we concentrate on providing the services that we excel at. (The Best Service in the Industry)

What's great is that we still have some customers from the very first year we were in business. Now that's what I call loyalty. We have met and had the opportunity to work with some amazingly interesting people who have been a real joy to work with, and we've worked with environmental professionals from all over the world, I think the last major overseas project we completed came from Japan.

Today QuanTEM looks nothing like it did 15 years ago when I came on the scene. At one point we had typists setting everywhere, now almost everything is electronic. Reports are automatically generated by the analysts as they complete the project, and the customer's reports are posted within minutes of the samples being analyzed. No more warehouses full of old job files, now it's all stored electronically. The short of it all is that the level of service we can provide today is head and shoulders above what was available just ten years ago. We now track our turnaround times each week and for the 1st six months of 2009 we successfully reported our results on time 99.8% of the time. In times gone by this would have been almost impossible to do much less track it on a daily basis.

As many of you are aware we have been asking you to join us in our birthday celebration. We have decided to reward our customers by giving away a G.P.S. and an iPhone at the end of the 2nd and 3rd quarters, plus at the end of the year one lucky winner will receive a big screen HDTV then later in 2010 some lucky customer will get to take nine of their friends to dinner with a few of the QuanTEM staff. This is the Big Kahuna here and it should be a fun evening for all. For details of how this works go to www.quantem.com.

So it's July, who are the lucky winners for the 2nd quarter? I have this information;
The G.P.S. goes to:
Robert Shufelt of Clintonville, WI
The winner is the iPhone is:
Keith Jay of Las Vegas, NV.
Congratulations Gentlemen I hope you get a lot of good use from these.

Thank you for you business, your loyalty and your continued support of QuanTEM. Your ideas and suggestions all are always appreciated as are your referrals.

Thank you and we look forward to the next 20 years working with each of you.

Asbestos Cleanup 'Emergency' Declared in Montana Town


WASHINGTON (CNN) -- A northwest Montana town where asbestos contamination has killed more than 200 people will get more than $130 million in cleanup and medical assistance from the Obama administration, the Environmental Protection Agency announced Wednesday.

The declaration is the first issued by the agency, which has grappled with the "toxic legacy" of a mine outside Libby, Montana, since 1999, Administrator Lisa Jackson said.
The town was heavily contaminated with asbestos-laced dust that federal prosecutors said resulted in more than 200 deaths and 1,000 illnesses.

"For decades, the disease and death rate from asbestosis in the Libby area was staggeringly high -- much higher than the national average," Jackson told reporters.
Not only did dust from the mine spread all over Libby and the neighboring town of Troy for decades, but tailings from the facility also were used as fill for driveways, gardens and playgrounds, she said.


"Literally no matter where these residents turned, they were being exposed yet again," Jackson said. She said the declaration "should be a reminder of the serious consequences of mismanaging hazardous material."
Oklahoma City Schools Dealing With Asbestos
State Worries District Needs Wider Response
Workers cleaned and removed asbestos from Adams Elementary School and the school passed an air quality test and a visual test as required by the Oklahoma Department of Labor.
A piece of piping insulation fell from a ceiling in the school earlier in the week. Work teams repaired the ceiling and used special vacuums to remove any asbestos fibers from the air. Students have been attending classes at nearby Roosevelt Elementary School since Adams was shut down on Monday.
The district said classes will resume at 8:15 a.m. on Thursday, as scheduled. The state said it worried that the Oklahoma City School District isn't doing enough to prevent the problem from happening again in the district. Department of Labor asbestos director Talmadge Rogers sent a letter to the district stating that the rest of the asbestos insulation in district hallways needs to be addressed because exposure could happen again.
"It is our children's health that we're talking about," said parent Patricia Sabatino.
Read More
.
Families Claims Three Kids Died From Hospital Mold
TAMPA, Florida - The families of three pediatric cancer patients sued a Florida hospital this week, claiming their children died after contracting fungal infections from renovations being performed at the facility.
The lawsuit filed by parents against St. Joseph's Hospital Inc. in Tampa on Tuesday claims the children were exposed to pathogenic fungi because the hospital failed to properly seal off an area under renovation.
Each of the children - ages 2, 5, and 9 - had been previously diagnosed with acute lymphoblastic leukemia, a cancer of white blood cells. Two had recently gone into remission, and a third was still battling the disease.
Attorney Steven Yerrid, who is representing the families, said they believe dust containing the fungus became airborne and invaded the patients' rooms, "where all these children then were forced to engage in yet another battle."
"And this one was unnecessary, and could and should have been prevented," he said.
Read More
.
Oregon Man Faces Asbestos Felony
A Eugene, Oregon developer will have to appear in court in August on charges of unlawful air pollution and supplying false information to the Oregon Department of Air Quality. The charges stem from a demolition of old mills on a property that allegedly caused asbestos to be handled in a way that did not meet asbestos regulations.
Dan Desler, the man charged, appeared in court and was granted an August continuance date.
EPA Superfund money will be used in this summer's effort to clean up the site.
We recently posted that mortality rates for mesothelioma are expected to peak in the year 2010 and have high hopes that rates will drop rapidly from that point on. How fast they drop, and how long the downward trend continues depends, in part, on the actions of individuals and companies. We can only hope that asbestos contamination, such as what has occurred on the site mentioned above, will also experience rapid decline.
As long as asbestos is in our environment, mesothelioma will continue to be a risk
Read More
.
Chickasaw Nation Benefits from Recovery Act Water Funds to Improve Water Services

The Chickasaw Nation will have improved access to vital water services through funds from the American Recovery and Reinvestment Act of 2009. The U.S. Environmental Protection Agency (EPA) and the U.S. Department of Health and Human Service's Indian Health Service (IHS) today announced $90 million nationwide in 'shovel ready' infrastructure projects designed to better protect human and environmental health in Indian Country.
"EPA and Oklahoma tribes share a common interest when it comes to caring for people and the environment," said EPA Acting Regional Administrator Lawrence E. Starfield. "The Recovery Act is helping us fund more projects by the Chickasaw and other tribes that will deliver long-term benefits for their communities and respective lands."
Read More about the EPA's Drinking Water Improvements
Here
.
WE WANT YOUR TEM'S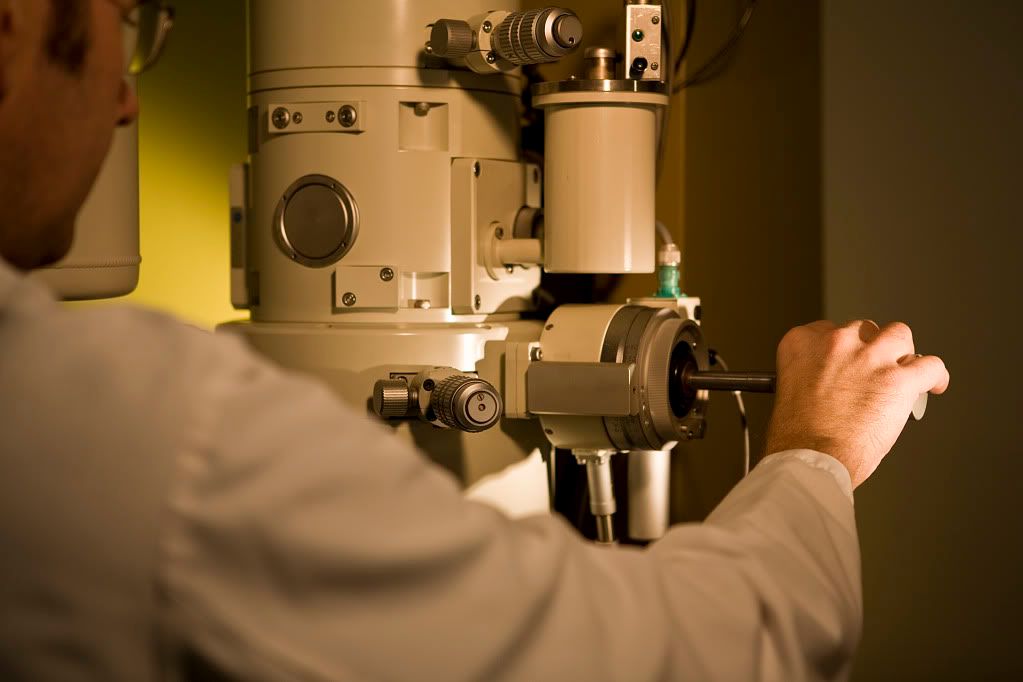 20 Years of Experience
Over 200,000 TEM Samples
NVLAP - 18 years
39.00 Per Test*
24-Hour Turn Around
* air sample, AHERA method
* Expires August 31, 2009
Barbara's Corner
Each month, I will post my Frequently Asked Questions (FAQ) with answers and tips that will help you save time and money.
Barbara, I have a sample I want analyzed on Saturday. Do I need to do anything special when sending it in?




YES!

In the event that you must have an analysis completed outside of our normal working hours please follow the instructions below.


Call QuanTEM at (800) 822-1650 to schedule the Saturday shipment.


All shipments to QuanTEM on Saturday MUST be done via FedEx and shipped to the FedEx Address below.
4220 N. Santa Fe Avenue Oklahoma City, OK 73105
Packages MUST be marked "HOLD FOR SATURDAY PICKUP".

Must be marked "Priority Overnight".
And, as always...

Please make sure all samples are in sealed plastic bags and have the completed Chain-Of-Custody with all contact information.

Please do not place the COC inside the plastic bag with the sample.




Would you like to ask me a question?

Email me

here.
Barbara Holder has been with QuanTEM since October 2004 as our Customer Relations Manager. Barbara plays an active supervisory role with all customer interactions with QuanTEM.
QuanTEM Chronicles Newsletter

Produced & Edited by:

Scott Leavell & Barbara Holder

Suggestions or comments? Email us

here

.
QuanTEM Labortories, LLC
2033 Heritage Park Drive
Oklahoma City, Oklahoma
(800) 822-1650 voice