IAQA / ACCA

Booth 610

Tampa, FL

March 7-9

Austin, TX

March 28-31
Message from John Barnett, President

I APOLOGIZE:
Sending out the QuanTEM Chronicles for the past five years has been a joy. Through this news letter we have met many of you whom we might not have otherwise. Your comments have always been constructive and in almost every case, positive. Occasionally we have some fun with it; but, the main purpose is to highlight information which directly affects our industry. It's not our intent to sell you on an idea as much as to provide items and articles which can be of value and, in many cases, thought provoking.
Last month we included a link to an article in the LA Daily newspaper entitled "The Toxic Mold Rush". This article didn't shine a very flattering light on Mrs. Sharon Kramer and she was kind enough to bring this to our attention. Mrs Kramer wasn't happy about seeing this article resurrected. For this I apologize to Mrs. Kramer and to our readers. It is not our intent to link to or promote articles which engage in personal attacks. No person or group gain from this type of publication. Please know, this won't happen again.
For every topic there many opposing view points and rest assured we will dig out as many of these as we can. The exchange of diverse opinions and views is what makes this country great and it's what keeps our industry growing. Now, can you be of help? Yes you can, if you see an article or have penned one which is beneficial to our industry, please let us know. We would like to consider linking to your offering.
Thank you for your continuing support of QuanTEM.

John E. Barnett
President
QuanTEM Laboratories, LLC
jbarnett@quantem.com
Florida Inspector Shares Chinese Drywall Challenges

by Sandy Bourseau
Originally published: July 2009 by ASHI Reporter

Identifying and attributing corroded components in a house to Chinese drywall appeared to be a slam dunk to viewers of ABC's Nightline program "Dream Home Turned Nightmare: Chinese Drywall Plagues Florida Homes."


The Reporter turned to ASHI Certified Inspector Michael Conley, Straight Inspection Service, Anna Maria, Fla., to see if he agreed it was as easy as it appeared to be on the program.

"Yes and no," he said.

"There are indicators that can point to the possibility of Chinese drywall; however, some of those same indicators can be explained by other means.

"For example, recently, I inspected a house where the homebuyers suspected the presence of Chinese drywall because there were black ground wires in the main service panel.


"Upon investigation, there were no other indicators except those black ground wires in the main service panel, which was located in the garage where a golf cart was being stored and recharged. The black ground wires were the result of off-gassing of battery acid in the vicinity of the panel. The cause had nothing to do with Chinese drywall.

"It's prudent for inspectors to be cautious about what they say. There is no official protocol for identifying this stuff, and the general mood today is for homeowners to panic when they hear it's in their house. We, as an industry, should not cause undue stress unless we can be sure it's what they have."

To access the entire article, please visit the ASHI Reporter
How A Professional Mold Inspection Could Save Your Life
Aquired from The Mold Blogger Jan 5, 2010
The growth of mold and mildew in a structure is a problem for buildings of all kinds, despite their age or the environment in which they're situated. It would be a mistake to assume that only older buildings can suffer from
heavy mold growth, or that structures in dry, arid climates are safe. In fact, mold can be found in both residential and commercial buildings anywhere in the world.
There are many different factors that can contribute to the proliferation of mold, including catastrophic events like floods, environmental contributors like heavy rainfall or humidity, interior plumbing problems, faulty construction or maintenance (e.g. a leaky roof), and so forth. Another mistake that many people make when it comes to mold is in assuming that they would notice if the problem were present.
To access the entire article from The Mold Blogger, click
HERE
.
The Top 10 Toxic Products You Don't Need

from , on Fri Feb 12, 2010

It's become so common in our culture to assume we need things - a lot of things. Over-consumption is not only a strain on our bank accounts and environment, it can also be harmful to our health. Whether there's a warning label or not (usually not), many of the things we buy have associated health risks.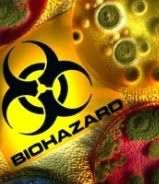 Here are ten toxic products, in no particular order, that you don't need. And, once you read about them, you probably won't want them either. Be aware that different homes may have different products that are more toxic than these. This is just a basic list of some of the most commonly purchased products that are almost entirely unnecessary, but pose significant risks.
To access the entire article from healthychild.org,
click
HERE
.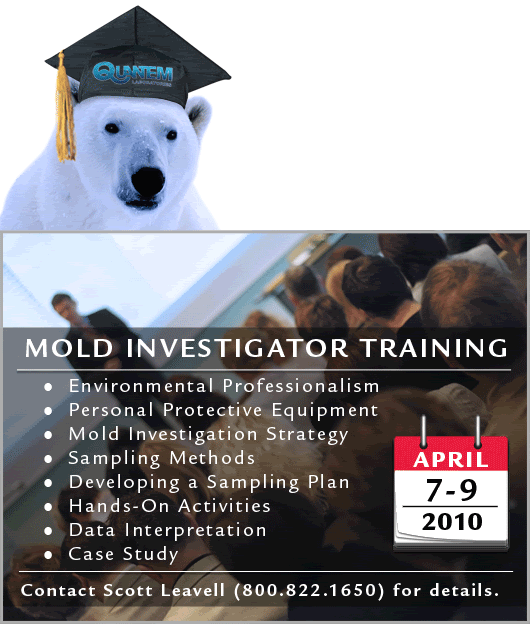 Spring Mold Investigator Training
April 7-9 2010
Oklahoma City, Oklahoma
Barbara's Corner
Each month, I will post my Frequently Asked Questions (FAQ) with answers and tips that will help you save time and money.

What You Should Expect From Your Environmental Lab - Accurate Results - On Time Results -Staff with a professional and courteous attitude

- Experienced staff willing and able to discuss the environmental industry

Quantem Laboratories has been here for 21 years providing you with the best service and professionalism in the industry. We strive daily to ensure that your experience with Quantem Labs is a positive one. As always, we welcome any comments and suggestions you may have that can improve our service to you in any way. Simply clink on the email link below or give me a call.

As we all know there are times in our industry that our customers will challenge us with a large volume of samples. During these times your laboratory should always communicate with you about the progress of your samples. As our clients know, I will call if we are experiencing one of those times. If you have projects in which the turn-around-time is crucial, we will ensure that you have your results. If they can wait, we will say thank you and work on those that can't. Communication is vital in this industry as you well know. I will always strive to communicate any issues with you proactively. On the same note if you do have a project that requires special instructions or will be one of those challenging large volume projects, please feel free to call me to give me a heads up.

Would you like to ask me a question? Email me here.

Barbara Holder has been with QuanTEM since October 2004 as our Customer Relations Manager. Barbara plays an active supervisory role with all customer interactions with QuanTEM.

Barbara's Corner Produced & Edited by:

Barbara Holder, Customer Service Manager
QuanTEM Chronicle Newsletter
Produced & Edited by:
Scott Leavell, Business Development Director
Suggestions or comments? Email me
here
QuanTEM Labortories, LLC
2033 Heritage Park Drive
Oklahoma City, Oklahoma 73120
(800) 822-1650 voice