QuanTEM's
Tip Of The Month
Earth Day 2010
was celebrated and on April 22nd this year.
Want to calculate your Carbon Footprint?
Message from John Barnett, President

FOUR BIG DAYS, ONE BIG EVENT !
A few days ago I heard these words used on the radio to advertize a auto sales event for a local car dealership. Listing to this got me to thinking about how different industries attempt to attract new customers. We're aware that different species of birds each have their own unique mating call, well so do industries. Can you imagine going to your customer and telling them that if they will buy in the next four days you'll cut the price and throw in the tag and title. You would probably get laughed out of their office, I know we would. The difference is we don't make one time sales, at least we hope we don't.
To be successful in our industry the marketing department may make the first sale but it's the staff in the lab that makes the continuing sales which come monthly, weekly or even daily. We are in this to build long term relationships, not just make one time sales. It's important for us to work as a team with our customers so they know they can trust us to be there when they need us. I think this works all the way up to the line in this industry and I know that here at QuanTEM we work with this in mind all the time.
What Remodelers Need to Know About the EPA's Lead Paint Rule

From The National Association of Home Builders
The U.S. Environmental Protection Agency's Lead: Renovation, Repair and Painting rule governing the work of professional remodelers in homes where there is lead-based paint was published in the Federal Register on Earth Day, April 22. The rule will take effect in April 2010.
The rule addresses remodeling and renovation projects disturbing more than six square feet of potentially contaminated painted surfaces for all residential and multifamily structures built prior to 1978 that are inhabited or frequented by pregnant women and children under the age of six.
It requires a cleaning inspection after the work is completed and grants the remodeler flexibility in determining the size of the work area, which can reduce the size of the area subject to containment.
The EPA rule also lists prohibited work practices including open-torch burning and using high-heat guns and high-speed equipment such as grinders and sanders unless equipped with a HEPA filter.

Additionally, the rule establishes required lead-safe work practices, including posting warning signs for occupants and visitors; using disposable plastic drop cloths; cleaning the work area with HEPA vacuuming and wet washing; and individual certification through a training course.
To view the EPA's lead law, please click
HERE
.
To view the entire article from NAHB, click
HERE
.
Note:
If you have any questions about the EPA's new lead laws or have questions about lead testing, please feel free to call QuanTEM at (800) 822-1650 or email us
HERE
EPA Officially Notifies Treece of Buyout
By: Dion Lefler

Originally posted on Friday, April 16, 2010
The last 100 or so residents of the contaminated community of
Treece, KS
learned Thursday that the Environmental Protection Agency is moving ahead with plans to buy them out.

The EPA announcement formalizes a plan that has been in the works for several months, since Congress approved a bill authorizing the EPA to spend approximately $3.5 million to empty Treece.
A century of mining operations has left the southeast Kansas town surrounded by millions of tons of lead- and zinc-contaminated waste and dotted with sinkholes and cave-ins filled with polluted water.

Neighboring
Picher, Okla
., has already been bought out and shut down, stripping Treece of jobs, recreation and public services.
"Coping with this legacy of pollution has been an extraordinary challenge for this community," EPA Administrator Lisa Jackson said in a statement. "It's important that they have the support of their government and we're happy to be able to offer assistance as they relocate to a safer, healthier place."

The relocation is expected to cover 77 properties, the EPA said.
To view the full article, click
HERE
.
Detroit Forced to Suspend Home Demolitions Due to Asbestos
Detroit, Michigan, devastated by the recession-induced bankruptcy of its major industry, auto manufacture, is trying to decrease the size of some residential areas to better cope with public facilities like water, sewer and trash pickup feeling the continued strain of recession.
The areas in question, many of which are largely abandoned, reflect the city's 33-percent unemployment rate. Unfortunately, the city's attempt to demolish 10,000 abandoned homes to improve the character of these neighborhoods has met opposition in the form of the Michigan Department of Natural Resources and Environment (DNRE), which says the plan violates state and federal laws regarding asbestos in abandoned buildings.
According to the DNRE, before the city can deconstruct more than the one house it has already razed, it is required to sample the structures for asbestos and then remove the asbestos by using a state-certified contractor.
To view the entire article from mesotheliomaweb.org, click
HERE
.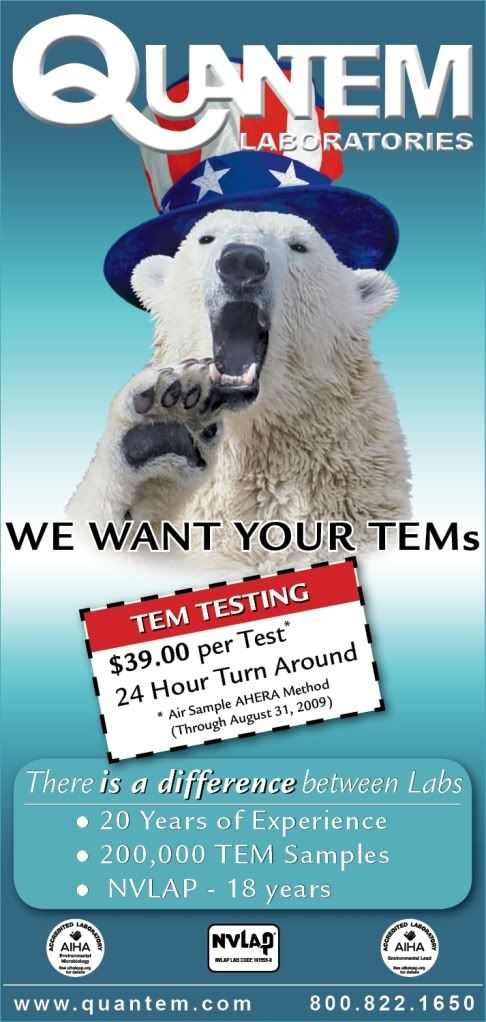 QuanTEM Chronicle Newsletter
Produced & Edited by:
Scott Leavell, Business Development Director
Suggestions or comments? Email me
here
.
QuanTEM Labortories, LLC
2033 Heritage Park Drive
Oklahoma City, Oklahoma 73120
(800) 822-1650 voice
(405) 755-2058 fax
Disclaimer
Any publication included in this News Letter and/or opinions expressed therein do not necessarily reflect the views of QuanTEM Laboratories but remain solely those of the author(s). Such publications have been included only for ease of reference and academic purposes.