Thanks to everyone who stopped by our booth at this years' AIHce show in Denver!
We'll see you next year in Portland, OR!



QuanTEM's
Tip Of The Month:
...an easy way to help
marine life and animals affected by the Gulf Oil Spill
Buy Dawn dishwashibng soap.
Watch this short video from Dawn.
Message from John Barnett, President

OBJECTIVES:

What are Objectives: steps towards our goals or just to get through the day? When we get up in the morning do we ever take a few minutes and consider our objectives for the coming day? How about how we approach our jobs? A couple weeks ago we advertized for applicants for a clerical position here at QuanTEM and we all enjoyed one of the resumes we received. This applicant listed as their objective "to get a stress free job with a nice company".

So what are Objectives? I know most people under 30 don't use Webster's dictionary any more but Webster says "Objectives are something towards which effort is directed: an aim, goal or end of action". From the above resume we can assume that some folks' life plan is to have everything done for them, no responsibility and no effort required. For those who wish to succeed, objectives become the benchmarks of our success. A way to gauge the success of our efforts and to keep us on the path we've chosen. Here at QuanTEM our goal is to be your lab of choice. Our objective is to prove to you each and every day how important your business is to us and to make sure you get the very best service available.

Last week we attended the AIHce conference and trade show. Scott and I enjoyed our conversations with those of you who stopped by our booth. We had some great discussions and met a bunch of new people. That's what makes a great show. Thanks for stopping by, now our objective is to get you to give us a try.

Alexander Seeks Delay Of EPA Lead Paint Rule
Senator Lamar Alexander (R-Tn.) asked the Environmental Protection Agency on Tuesday to delay implementing a new "lead paint rule" that he said could "affect repair work on up to 750,000 Tennessee buildings, make repairs more expensive and impose on painters and other contractors fines of up to $37,500 a day."

Sen. Alexander also will join Sen. Susan Collins (R-Me.) in introducing an amendment to the Supplemental Appropriations bill that would allow any contractor who enrolls in a lead-paint certification class by Sept. 30, to be considered in compliance with the EPA lead paint rule.

He said that the EPA has only three trainers assigned full-time to Tennessee to offer such classes, "even though there are 50,000 contractors-13,000 in Nashville alone-who may need to be certified before they can work on most homes built before 1978."
In a letter to EPA Administrator Lisa Jackson, Sen. Alexander said implementing the "lead-paint" rule could affect more than 750,000 buildings in Tennessee and 168,000 housing units in Davidson County alone.
[...]
To view the Environmental Protection Agency's lead law, please click
HERE
.
DID YOU KNOW....
QuanTEM Laboratories does lead analysis. Call for pricing TODAY!
(800) 822-1650 or email us
HERE
.
Michael and Barbara Rhodes from Kanawha, West Virginia have filed a lawsuit against property inspector Curtis McLeod for alleged negligent house inspection. According to the couple, they hired McLeod to inspect a house in Charleston that they were planning to purchase. The inspector's services came with a warranty, the couple added.

According to the lawsuit filed at the Kanawha Circuit Court, McLeod had assured the Rhodes that the house is free from any safety problem. However, the couple revealed that right after they purchased the property, they experienced defects which forced them to hire a professional engineer for further inspection.
The lawsuit revealed that the engineer had told the new owners that the home has several construction problems, including defective water control that causes basement leakage and mold growth. The costs of repairs that would make the house habitable and safe would reach thousands of dollars, according to the couple. They further added that the water control problem should have been seen and reported by McLeod right after his first inspection.
The owners then reportedly tried to contact the house inspector to resolve the issues but the defendant allegedly failed to respond. The Rhodes family accused the house inspection specialist of violating the Consumer Credit and Protection Act of West Virginia.
[...]
Michigan Contractor Sentenced to Prison for Asbestos Violations
Going beyond monetary penalties, a federal judge in Michigan sentenced the owner of a demolition company to more than a year in prison for violating asbestos regulations-and exposing workers and residents to potentially deadly disease.
Scott Tucker, 43, who had pled guilty to the illegal handling of asbestos at projects in Ohio and Michigan, will serve a 13-month term and pay a $1,000 fine. According to charges filed by the U.S. Department of Justice, Tucker knew asbestos was present during the work but did not comply with rules intended to mitigate the risk of asbestos-related disease.
In handing down the prison term, U.S. District Judge Robert Holmes Bell said that the sentence was meant as "a message"-not only to Tucker, the owner of H&M Demolition Company in Holland, Mich., but also to others who might be inclined to cut corners and skirt asbestos-related rules.
"I am convinced that the message has to be sent out to the larger community," said Bell. "This is not to be tolerated. This is also way out of bounds." If he sentenced Tucker only to probation or fines, the judge added, others would "think it's just the cost of doing business."
With his business struggling, Tucker had taken dangerous shortcuts and exposed many-including his own workers and those living and working near the sites-to asbestos, a building material that has long been scientifically linked to diseases including lung cancer and mesothelioma, an almost always fatal cancer of the protective lining that covers many of the body's organs.
[...]
Mold Becomes Problem For Flood Victims
by: Nicole Ferguson
Published May 19, 2010 by News Channel 5,

Nashville, TN (WTVF)
NASHVILLE, Tenn. - As homeowners begin to work on their flood damaged homes, many are discovering a nasty problem growing beneath their floor boards, drywall and cabinets.

"Nashville, unfortunately, is going to have to address the mold issues," said Kelli Smith, president and owner of PuroClean, a Nashville-based emergency restoration company.

Smith and her crews worked to finish stripping Winston Wiley's West Hamilton Avenue home on Wednesday.
"I tried to help out," said Wiley, who began stripping his walls while waiting for PuroClean to arrive. "I couldn't just sit and let the house die a slow death."

PuroClean placed humidifiers and fans across Wiley's home, sprayed microbial repellent mixtures across the walls and used infrared technology to detect temperatures in the house. The cooler zones marked wet areas in the home and possible places for mold growth.

"Mother Nature is going to dry it [the home]. She's just not going to do it fast enough," said Gary Neese, production manager with PuroClean. "We can do it in three to four days, whereas Mother Nature could take possibly 60 days."
[...]
Editor's Note:
QuanTEM Labs has a full, accredited microbiology lab.
We stand ready to assist those affected by the unprecidented floods that hit Tennessee & Kentucky. Call or email us TODAY!
(800) 822-1650 or email us
HERE
.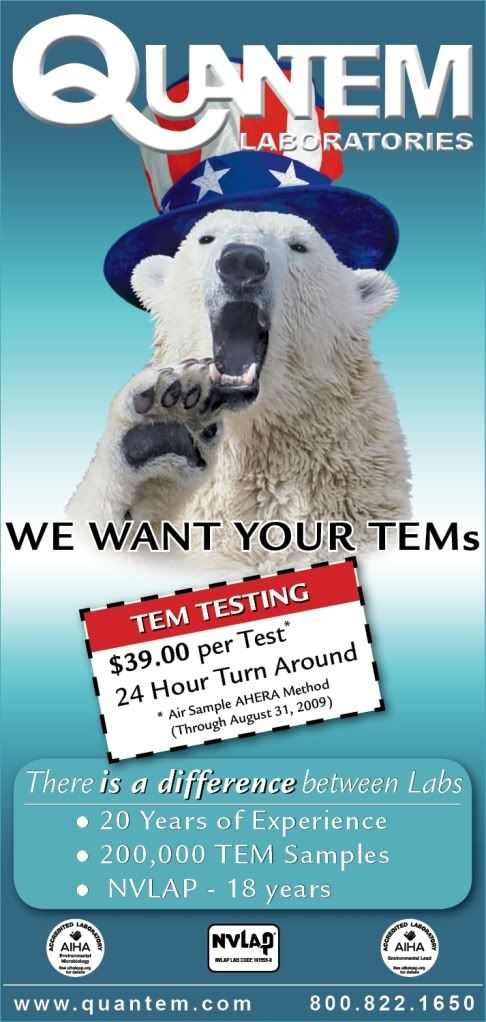 QuanTEM Chronicle Newsletter
Produced & Edited by:
Scott Leavell, Business Development Director
Suggestions or comments? Email me
here
.
QuanTEM Labortories, LLC
2033 Heritage Park Drive
Oklahoma City, Oklahoma 73120
(800) 822-1650 voice
(405) 755-2058 facimile
Disclaimer
Any publication included in this News Letter and/or opinions expressed therein do not necessarily reflect the views of QuanTEM Laboratories, LLC but remain solely those of the author(s). Such publications have been included only for ease of reference and academic purposes.